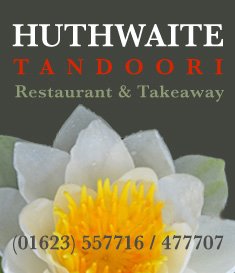 Our Background
Founding of Huthwaite Tandoori
Huthwaite Tandoori was first established in July 1990 in the small village of Huthwaite. As the village developed and changed, so too has the Restaurant and now has become an integral part of the community. Initially the restaurant could seat around 50 people but after expansion in 1999, it was increased to 84 and then after extensive work to give the restaurant a new look in 2004, this was increased to 116. The growing demand from our customers has encouraged us to add deliveries to our services along side take-away collection and catering for events.
At Huthwaite Tandoori, our focus is the customer. All our dishes are prepared after the customer has ordered as we believe fresh food is essential to bring out the full flavours. As each dish is prepared for order, we can tailor any dish to your needs, whether extra ingredients or subtle changes to spice or flavour. This focus has led to a loyal underpinning of regular customers but we always welcome new faces and will try to help to find the perfect dish for you. 
History of Dishes
North: Korma
A mild creamy dish from North India with origins that trace back to the Mughal times. The ever popular dish can now be found all over South-East Asia. Traditionally the dish was prepared by braising the food, which is where the name 'korma' derives from.
East: Jalfraize
A hot dish with a dry thick sauce and chillies from East India. Jhal means hot or spicy in Bengali so the main ingredients of green peppers, onions and chillies gives the dish an individual taste.
South: Dupiaza
A medium dish with thick chunky onions and peppers from Hyderabad in South India. The name comes from Urdu meaning 'two onions' as the dish is originally cooked with an onion base and then garnished with onions hence 'two onions'
West: Vindaloo
A popular but extremely hot dish coming from West India. While mainly found in Goa, some evidence shows links to the Portuguese. The 'aloo' in the name means potato in Hindi hence the inclusion of them in the dish.